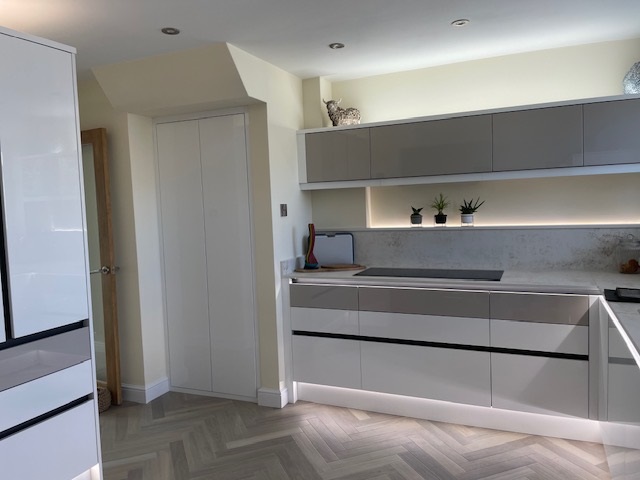 We offer a full service Kitchen design, customised for you
To complement the stylish cabinets, we installed a Blanco sink and tap. Blanco is renowned for its exceptional quality and innovative design, ensuring a durable and eye-catching centerpiece for the kitchen. The sleek and modern design of the sink and tap adds a touch of sophistication while providing a functional and efficient workspace for everyday tasks.
When it comes to kitchen appliances, we spared no expense in selecting top-of-the-line options. The NEFF pyrolytic oven and microwave combination offer the perfect balance of convenience and culinary excellence. With advanced features and precise temperature control, these appliances make cooking a breeze. The NEFF canopy hood ensures efficient ventilation, keeping the kitchen air clean and fresh.
Just wanted to say a huge thank you to Sam for his design, we are very pleased , please pass on our thanks to Steve and the gang!
To Sam and everyone at Courts, thank you for the stunning design, from the planning to the installation everything ran smoothly without any problems, we will be returning customers , thank you so much
thank you for being such a fantastic team with very high standards. In todays world its truly a delight to find such consistent professionalism and dedication
For the wine enthusiasts, we incorporated a Caple wine cooler into the design. This stylish addition not only keeps your favorite bottles at the perfect temperature but also adds a touch of luxury to the kitchen space. The NEFF washing machine, on the other hand, offers both functionality and efficiency, making laundry chores a breeze. Illumination is key to creating the right ambiance in any kitchen, and the Gloss Porter Kitchen is no exception. We installed Ansell ceiling spotlights and Sensio underlights, providing both task lighting and a warm, inviting atmosphere. LED strip lighting adds a modern and sophisticated touch, accentuating the kitchen's sleek design.
To maximize storage and accessibility, we included a Kesseböhmer Le Mans pull-out corner unit. This innovative solution allows easy access to items stored in the corner, making the most of every inch of space. Additionally, a Zehnder radiator not only keeps the kitchen warm and comfortable but also adds a touch of elegance.
The Dekton Nellium worksurface complements the Gloss Porter Kitchen perfectly. Its durability, resistance to heat, and stunning aesthetics make it an ideal choice for a modern kitchen. The oak finger stave shelving adds a natural element and creates a warm contrast against the sleek surfaces.
When it comes to flooring, we chose Karndean Art Select Parquet flooring. Its timeless beauty and durability make it a practical and stylish choice for the Gloss Porter Kitchen. It not only adds a touch of luxury but also ties the entire design together.
At Court Homemakers, we take care of every aspect of the project, ensuring a hassle-free experience for our clients. From plastering and plumbing to electrical work and laser templating for the worksurface, our dedicated team of professionals handles it all. We also provide bespoke joinery work to perfectly integrate the kitchen into your home.
In the Gloss Porter Kitchen project in Hartlepool, Court Homemakers also took care of installing ceiling lights, skimming the walls and ceilings, and preparing them for painting. Our attention to detail and commitment to quality ensure a flawless finish that exceeds expectations.
If you're dreaming of a stunning kitchen transformation, look no further than Court Homemakers. Our expertise, attention to detail, and dedication to customer satisfaction set us apart. Contact us today, and let us bring your vision to life with our unrivalled craftsmanship and exceptional service. Trust Court Homemakers to create the kitchen of your dreams.