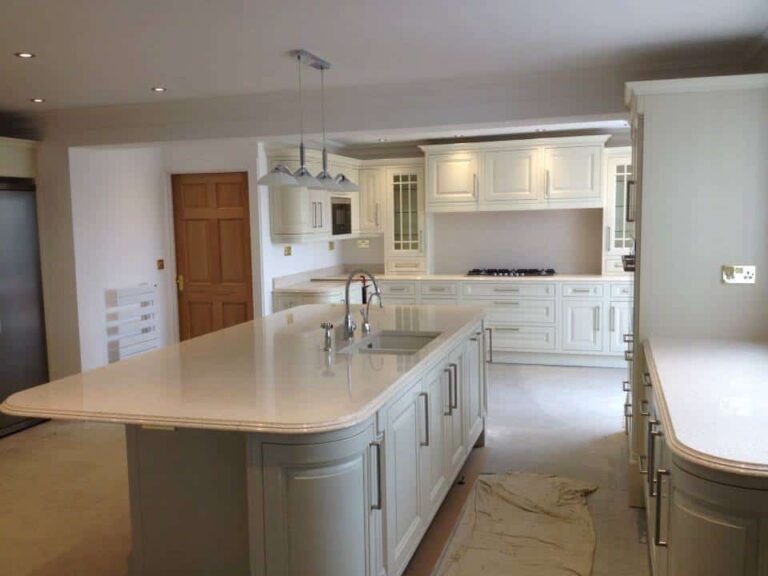 We offer a full service Kitchen design, customised for you
The bespoke cabinetry above the hob not only adds additional storage space but also provides efficient extraction for cooking fumes.
The island seating for four in Nunthorpe, Middlesbrough makes for an inviting gathering spot for family and friends.In conclusion, Court Homemakers' Astor kitchen in porcelain with stainless steel handles, Blanco sink in Jasmin, siemens oven, microwave, dishwasher, gas hob, and canopy extractor, island and worktops in silestone Luna profiled edges, bespoke dresser cabinets with glass and lighting, sink on the island, and bespoke cabinetry above the hob, as well as seating for four at the island, create a modern and functional space that is both practical and stylish.
Just wanted to say a huge thank you to Sam for his design, we are very pleased , please pass on our thanks to Steve and the gang!
To Sam and everyone at Courts, thank you for the stunning design, from the planning to the installation everything ran smoothly without any problems, we will be returning customers , thank you so much
thank you for being such a fantastic team with very high standards. In todays world its truly a delight to find such consistent professionalism and dedication
We can't recommend Court Homemakers enough, A perfect Kitchen project from start to finish