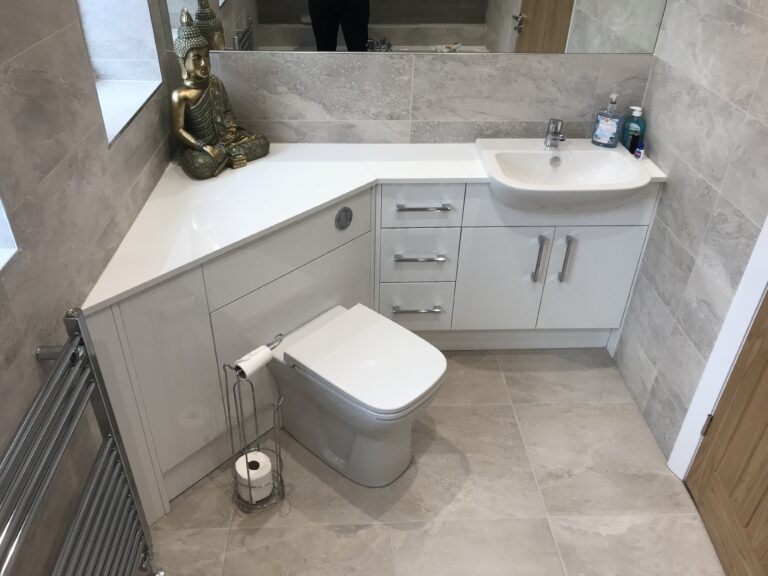 We offer a full service Bathroom design, customised for you
For the centerpiece of the bathroom, we decided to go all out. We installed the magnificent 180 x 80 Quantum Double Ended Bath By Carron, ensuring ample space for relaxation and indulgence. Paired with the Pegler Araya bath shower mixer tap, it offered both functionality and elegance. But we didn't stop there. We wanted to create a seamless look, so we built a tiled recess behind the bath. This not only added a contemporary touch but also provided a practical solution for storing bath essentials within easy reach.
We had some fitted wardrobes designed and fitted by Courts and we were really impressed with all stages of the process. We explored some other options but Jake's designs were very impressive. The fitting process all went to plan and was excellent.
Without a doubt Court Homemakers are an outstanding company and having recently had them fit us a new kitchen and utility room built around our old facilities, one can only say that the workmanship was outstanding.
This is our second kitchen in different houses from Courts. Fantastic service and the quality is second to none.
To Ryan Just wanted to say many thanks for a terrific job designing and installing our new wardrobes .Everyone weve had contact with has been so professional , helpful, pleasant and polite. special thanks to yourself and Paul who did a magnificent job was a delight to have in the house. We're so happy with the result
We are extremely pleased with our fitted bedroom. Special thanks to Ryan, the salesman who couldn't have been more helpful and Steve who did an excellent job of fitting. Both are a credit to the company thanks again
To Sam Chris and everyone at Courts ! Once again thank you so much for the work you have carried out on our new walk in shower room and laundry /wc. Cannot praise the fitters, electricians, plasterers etc ( an dnot forgetting Stuart) highly enough - we are over the moon with the results!! thank you once again. keep up the good work! best wishes to you all
Thank you to everyone at Court Homemakers for a job well done
Would like to thank everyone so much for my new kitchen , bedroom and bathroom, Absolutely love everything
Hi Sam just wanted to express our thanks to you for your advice & guidance on the selection & design of our new bathroom
To Michael and SAM THANK YOU THANK YOU THANK YOU , we now have the most amazing kitchen/bathroom/dining room , it all looks lovely, Your team worked so hard and were all first class Hope to get painted soon, one wall lime green the others pale grey which will look great thank you again for all the help you gave us
Toi Court Homemakers can't thank your staff and company enough for the wonderful kitchen we had fitted and the excellent service you've provided us ever since . we would recommend your company and staff to one and all
To everyone who worked so hard to produce our beautiful kitchen thank you so much.
One of the challenges we encountered was the room's previous configuration, with separate WC and bath areas. We knew we had to break down barriers—literally. We removed the dividing wall to open up the space, and the result was astounding. However, it left us with a slight problem: the original cast iron soil vent pipe. To tackle this issue, we opted for Court Homemakers Bespoke White Gloss Cabinetry. This bespoke solution allowed us to incorporate and cover the unsightly waste pipes seamlessly. The addition of an angled WC further contributed to the modern bespoke feel of the room.
For the basin area, we wanted to maintain the linear wall-to-wall concept we used with the bath. Therefore, we selected the elegant Vitra S20 Basin & BTW WC with a soft-closing seat. Its sleek design and exceptional quality perfectly complemented the overall aesthetic of the bathroom. To ensure efficient flushing and concealed pipework, we included a Geberit furniture cistern, adding both convenience and style.
As we examined the space, we felt that it needed something more—a focal point that would capture attention and elevate the design to new heights. That's when inspiration struck, and we decided to introduce a full-length bespoke Andy Glass wall mirror. This stunning feature was rebated into the tiling, creating a seamless integration that not only enhanced the bespoke nature of the room but also added a touch of glamour and visual appeal.
The transformation of Mr & Mrs Metcalf's bathroom was truly remarkable. From the choice of exquisite tiles to the carefully selected fixtures and fittings, every detail was meticulously planned and executed. At Courts, we take pride in our ability to listen to our customers' needs and bring their visions to life. Our team of experts, led by Sam, worked tirelessly to create a bathroom that exceeded expectations and provided a haven of relaxation for years to come.
If you're looking to transform your bathroom into a modern haven, trust Courts to make your dreams a reality. With our unrivaled expertise, commitment to quality, and dedication to customer satisfaction, we guarantee an exceptional experience from start to finish. Contact us today and let us turn your bathroom into a space that reflects your style, enhances your lifestyle, and brings you joy every day.