Embracing Perfection: Court Homemakers fitted a modern kitchen in Woodham, Newton Aycliffe

When faced with the desire to create a modern kitchen in Woodham, Newton Aycliffe, we turned to Court Homemakers. With their track record of delivering exceptional kitchen transformations, they became our go-to experts. The end result surpassed our expectations, transforming our space into the perfect big living kitchen/diner with improved access to the rear sunroom.
Navigating the World of Colours and Products:

Choosing the right colors and products was a daunting task for us. Fortunately, Lee May from Court Homemakers proved to be an invaluable guide. Patient and attentive, Lee dedicated the time needed to assist us in making the perfect selections.
With his guidance, we achieved an impeccable combination that truly reflects our style and preferences.
The product selection included Unity Pure Gloss White kitchen cabinetry from Second Nature, 2x Schock sinks with Pinedo taps by Caple, Siemens and Hotpoint appliances, Sensio ambient lights, Redroom radiators, high-pressure laminate Axiom work surfaces with Bushboard splashbacks, and Grey Riven Slate Karndean flooring.
Just wanted to say a huge thank you to Sam for his design, we are very pleased , please pass on our thanks to Steve and the gang!
To Sam and everyone at Courts, thank you for the stunning design, from the planning to the installation everything ran smoothly without any problems, we will be returning customers , thank you so much
thank you for being such a fantastic team with very high standards. In todays world its truly a delight to find such consistent professionalism and dedication
The Finishing Touches and Favourite Features::

Among the standout features in our new space, the Karndean Flooring takes the spotlight. Although it was a challenging decision to make, we are thrilled with how it ties the entire room together. Every detail, from the flooring to the overall design, exceeded our expectations and left us delighted.
Recognising Outstanding Individuals:

In our journey, two individuals truly stood out for their exceptional contributions. Firstly, Lee May, who offered unwavering support, guidance, and expertise whenever we needed it.
Secondly, Ritchie Collett, the skilled kitchen fitter, who demonstrated unmatched craftsmanship and professionalism.
Their commitment to excellence made all the difference in our experience.
However, it's essential to acknowledge a couple of challenges we encountered.
We experienced an oversight during the survey process, which resulted in a significant issue with the waste pipe in the kitchen annex.
Additionally, there were problems with faulty radiators and an imbalance in the heating system, which affected the overall comfort of our home.
Despite these setbacks, Court Homemakers was diligent in resolving the issues to our satisfaction.
Our experience with Court Homemakers extends beyond this project. Having previously entrusted them with our kitchen and bathroom renovations, we can confidently say that they have consistently delivered exceptional results, earning our trust and loyalty.
From overcoming challenges to embracing perfection, our living kitchen transformation has left us thoroughly satisfied. Court Homemakers remains our top choice for exceptional home renovations, and we couldn't be happier with the outcome. With a solid portfolio of fitted kitchens in Woodham, Newton Aycliffe, they continue to be the trusted experts in delivering stunning kitchen transformations.
Without a doubt, we wholeheartedly endorse Court Homemakers. Our repeated collaboration with them, spanning multiple projects including the renovation of our kitchen and bathroom, attests to their exceptional service.
Their unwavering commitment to delivering outstanding results, coupled with their extensive expertise and customer-focused approach, has cemented our trust and confidence in their services. If you reside in Woodham, Newton Aycliffe and are in search of a top-tier kitchen renovation partner, Court Homemakers should be your first choice.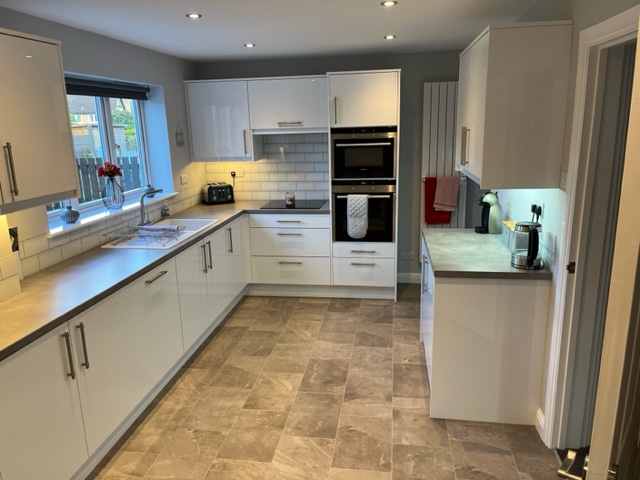 For over 35 years, our company has been manufacturing and fitting modern kitchens in Woodham, Stockton-on-Tees, Middlesbrough, and surrounding areas.
With our extensive experience in the industry, we have become the go-to destination for homeowners seeking high-quality kitchen, bedroom, and bathroom solutions.
People choose us for several reasons.
Firstly, our expertise extends beyond just kitchen fitting.
We offer a range of additional services, including building, plastering, joinery, and more.
This comprehensive approach allows our customers to rely on us for all their home improvement needs, saving them time and hassle by dealing with a single trusted provider.
Secondly, our team of expert designers is committed to creating the best kitchens in the Northeast.
With their wealth of knowledge and creativity, they work closely with customers to bring their vision to life.
Whether it's a sleek and contemporary design or a more traditional style, our designers have the skills to craft personalised solutions that perfectly match each client's taste and requirements.
Furthermore, we take pride in our two large showrooms, each boasting over 100 displays.
These showrooms serve as inspiration hubs, allowing customers to explore a wide range of kitchen designs, finishes, and features.
With such an extensive selection, they can see firsthand the quality and craftsmanship we offer, making informed decisions about their dream kitchen.
In addition to our showroom experience, we understand the importance of convenience for our customers.
That's why we have expanded our services to cover Woodham, Stockton-on-Tees, Middlesbrough, and the surrounding areas.
By bringing our expertise closer to these locations, we ensure that homeowners in these regions have easy access to our exceptional products and services.
Whether it's a small kitchen renovation or a complete transformation, we are dedicated to delivering outstanding results.
Our commitment to excellence, attention to detail, and use of high-quality materials and fittings set us apart.
We understand that the kitchen is the heart of the home, and we strive to create spaces that are not only aesthetically pleasing but also functional and durable.
With our long-standing presence in the industry and our extensive portfolio of successful projects, we have built a solid reputation as a trusted provider of modern kitchens.
Our satisfied customers are a testament to our craftsmanship, reliability, and customer-centric approach.
So, if you're looking for a modern kitchen in Woodham, Stockton-on-Tees, Middlesbrough, or the surrounding areas, look no further.
Contact us today to discuss your requirements, visit our showrooms for inspiration, and let our expert team guide you in creating the kitchen of your dreams.
With us, you can expect nothing but the best.