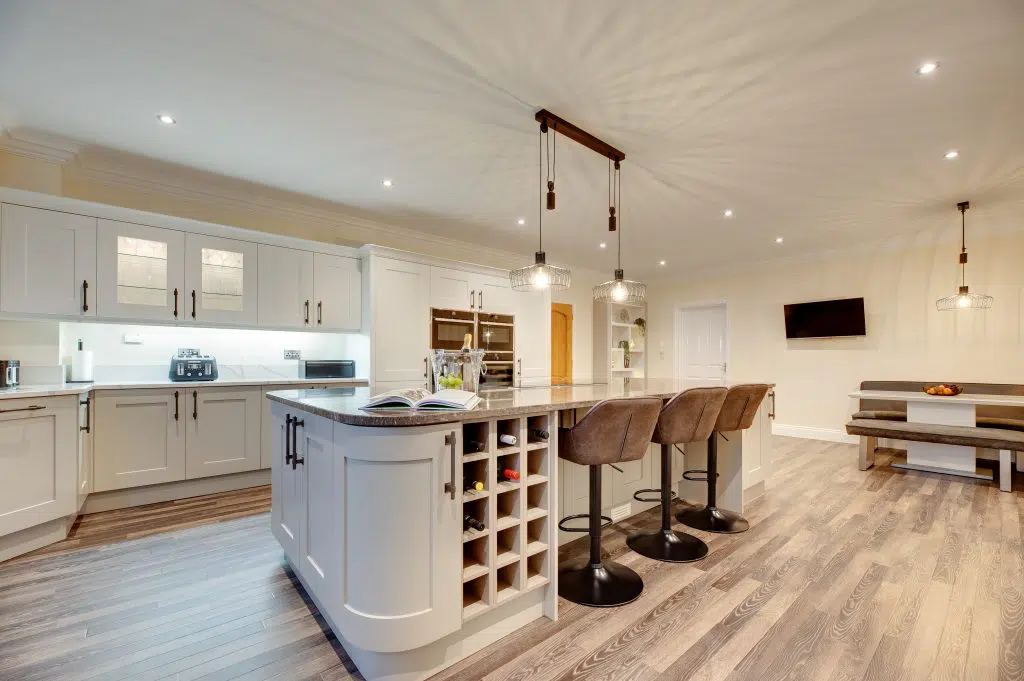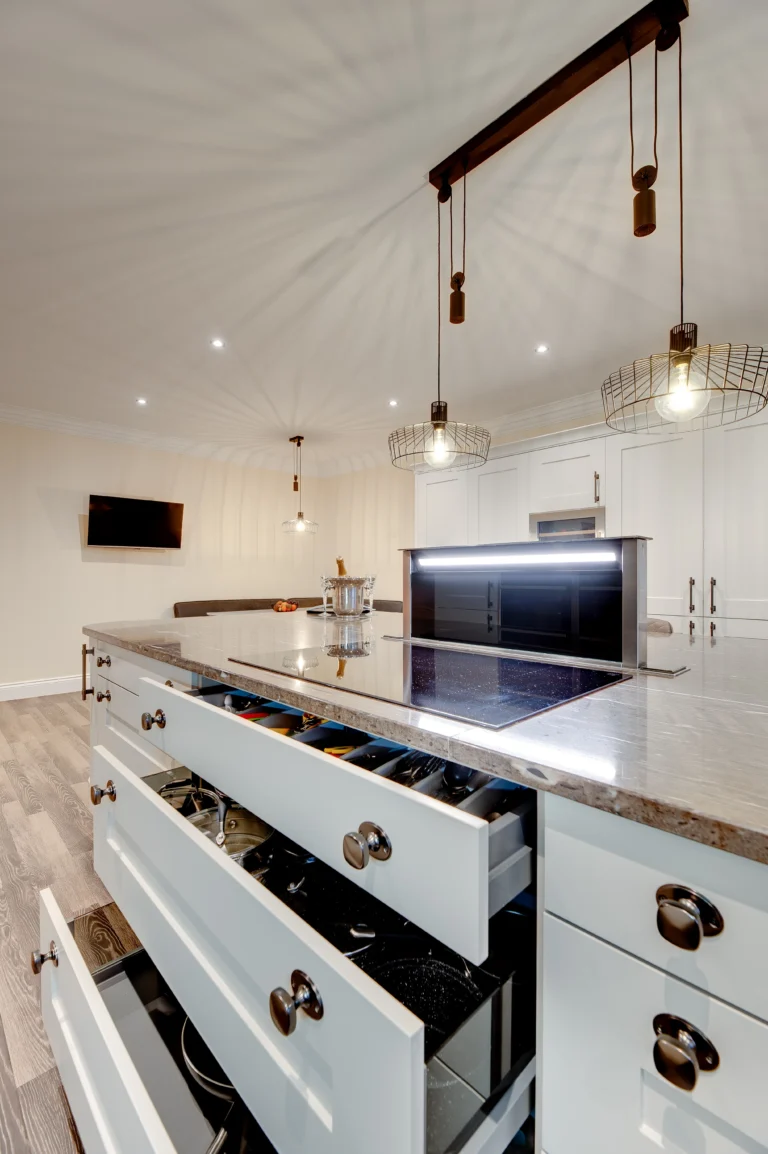 We offer a full service Kitchen design, customised for you
Court Homemakers, the premier company specialising in fitted kitchens in the North East, took charge of every aspect of our Shaker Kitchen renovation project, demonstrating their expertise from beginning to end. The captivating island at the center of our Shaker Kitchen truly stands out as a remarkable feature. Court Homemakers not only respected our strong desire to retain it but also expanded its size, exceeding our initial expectations.
Now, the island serves as a striking focal point in our Shaker Kitchen, showcasing the exceptional craftsmanship by Court Homemakers. It not only enhances the overall aesthetic but also offers abundant storage options. With the inclusion of a pull-out pantry cupboard and elegantly designed curved corner cupboards, the island provides a practical solution to keep our kitchen essentials organized.
An ingenious decision made by Court Homemakers was to position the induction hob on the island, replacing our previous range cooker. This placement not only adds to the functionality of the Shaker Kitchen but also seamlessly integrates the induction hob into the island's design, creating a cohesive and harmonious look.
Furthermore, Court Homemakers' dedication to detail is exemplified by their creation of a bespoke shelving unit, filling a previously vacant corner. This tailor-made addition perfectly complements the Shaker Kitchen's aesthetic and serves as an ideal display area for our cherished items, while also maximizing storage capacity.
Throughout the entire project, Court Homemakers has shown unwavering commitment to excellence in executing our vision for our Shaker Kitchen. Their meticulous attention to detail, combined with their expertise, has resulted in a transformation that surpasses our expectations. We are thrilled with the exceptional service provided by Court Homemakers and grateful for their ability to bring our dream Shaker Kitchen to life.
Just wanted to say a huge thank you to Sam for his design, we are very pleased , please pass on our thanks to Steve and the gang!
To Sam and everyone at Courts, thank you for the stunning design, from the planning to the installation everything ran smoothly without any problems, we will be returning customers , thank you so much
thank you for being such a fantastic team with very high standards. In todays world its truly a delight to find such consistent professionalism and dedication
Our new shaker kitchen was finished in three weeks, exactly. In fact, everything from start to finish has been done exactly as Court Homemakers said it would be.