"A Dream Kitchen in Redmarshall, Stockton-on-Tees - A Case Study"

Step into the exclusive world of David and Ann Holmes, the proud owners and builders of a magnificent recently listed house in Redmarshall, Stockton on Tees. As the heart of their newly built residential home, their exceptional new inframe kitchen, fitted with the Clarendon range from second nature, is a testament to the meticulous craftsmanship and attention to detail that went into creating their dream culinary space. Let's explore the captivating features of this bespoke kitchen, which is sure to leave you in awe.
The centrepiece of this magnificent new in-frame kitchen in Stockton on Tees is the presence of the stunning island with solid timber 60mm oak cabinetry, boasting a full end grain chopping block that adds both functionality and visual appeal. Complementing the cabinetry, the marbled white 30mm quartz worksurfaces offer a luxurious and durable surface for all culinary endeavours.
Designed by our talented designer Ryan with David, David and Ann's new in-frame kitchen is equipped with top-of-the-range appliances to enhance their cooking experience. 
 The AEG appliances take centre stage, featuring pyrolytic ovens with steam capabilities, dishwashers with extra power functions and time delay options, and a convenient 26-litre microwave. The Caple refrigeration units, including a full-height larder fridge with 300 litres of storage and a spacious freezer with 197 litres of space, cater to their storage needs. To add a touch of elegance, the kitchen is complete with a wine fridge, perfect for relaxing evenings with loved ones.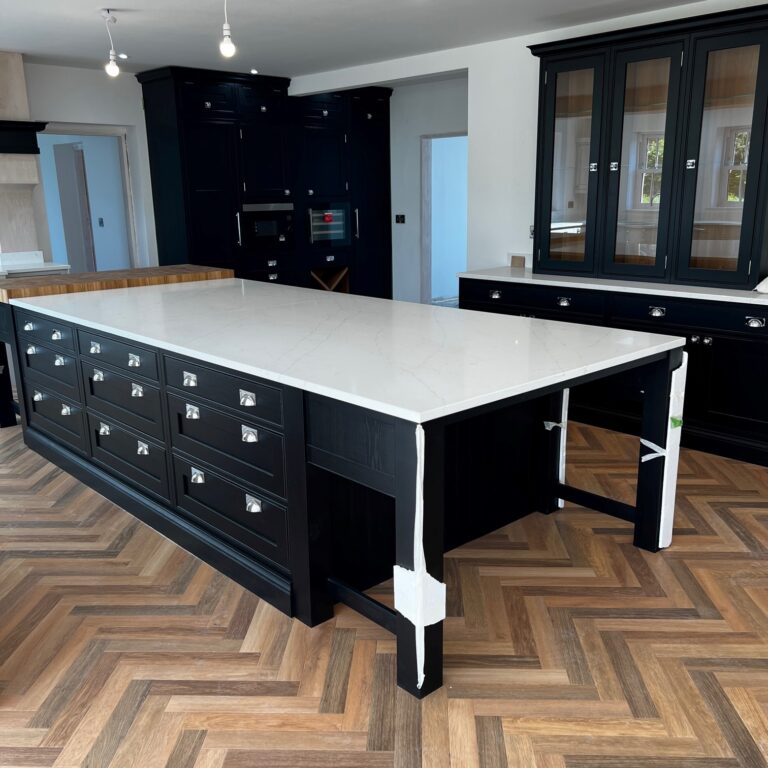 Sensio lighting creates the perfect mood in David and Ann's new inframe kitchen, enhancing its beauty and functionality. Whether preparing a gourmet meal or enjoying a quiet breakfast, the lighting sets the scene for every occasion.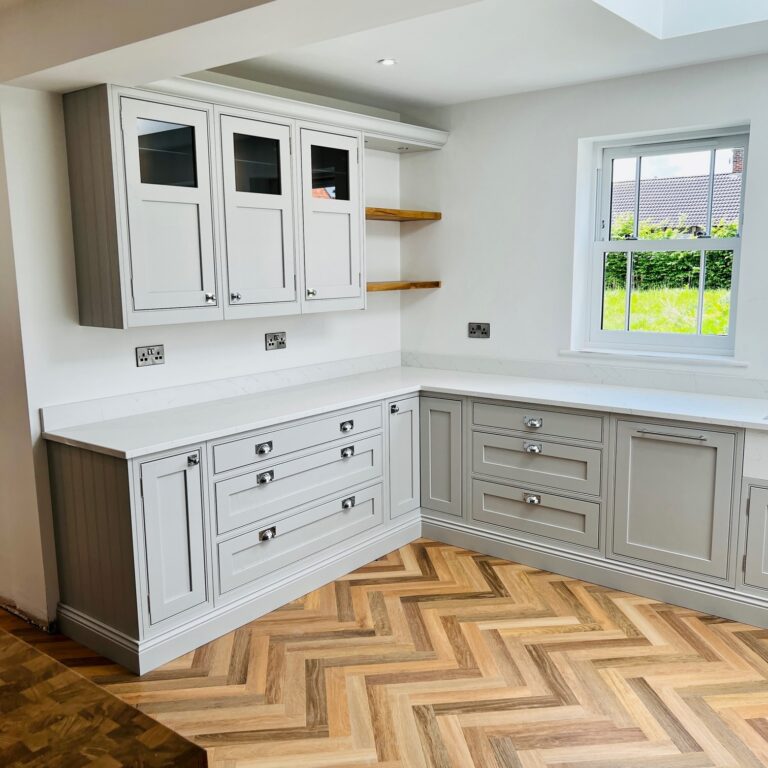 Designed jointly by Ryan and the homeowners, this exquisite new inframe kitchen is a true masterpiece. No expense was spared in creating a space that is as visually stunning as it is functional. Court Homemakers, the renowned experts in bespoke cabinetry, supplied, manufactured, and installed the cabinets along with the stunning carbon and dove grey  in frame timber doors and drawer furniture from second nature. Every detail was carefully crafted to bring the Holmes' vision of a new inframe kitchen to life.
Ritchie, an integral part of the main installation team, worked his magic to ensure the kitchen surpassed all expectations. His impeccable craftsmanship and attention to detail brought the ideas, imaginations, desires, and designs to fruition. The result is a breathtaking new inframe kitchen that will leave you speechless.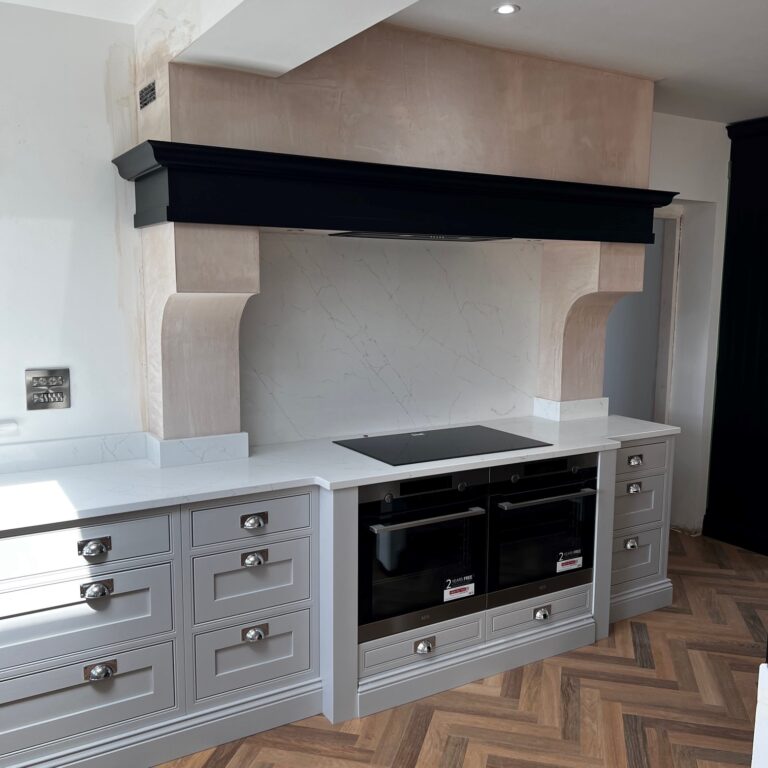 'The pictures of our new kitchen demonstrate the end result of an awful lot of work by Court Homemakers. We are fussy – very fussy, and we wanted to make sure we got the design right. The team at Court Homemakers never made us feel a nuisance as we worked endlessly through the fine detail of the design. In the end, we feel the choice of supplier has been equally as important as the colours and layout of the kitchen itself. A wonderful company to deal with, and i don't say that very often!'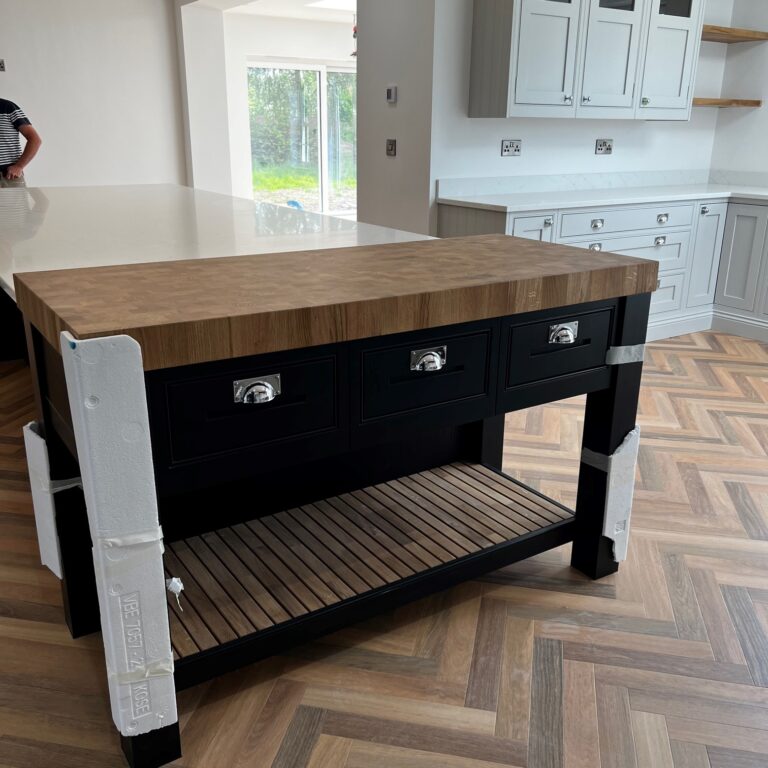 Situated in the sought-after area of Redmarshall, Stockton-on-Tees, David and Ann's recently listed house with its stunning new inframe kitchen presents an opportunity that any new house purchaser would find irresistible. With the kitchen alone being a dream space, its exquisite design and meticulous craftsmanship make it an unparalleled selling point for the property.
We had some fitted wardrobes designed and fitted by Courts and we were really impressed with all stages of the process. We explored some other options but Jake's designs were very impressive. The fitting process all went to plan and was excellent.
Without a doubt Court Homemakers are an outstanding company and having recently had them fit us a new kitchen and utility room built around our old facilities, one can only say that the workmanship was outstanding.
This is our second kitchen in different houses from Courts. Fantastic service and the quality is second to none.
To Ryan Just wanted to say many thanks for a terrific job designing and installing our new wardrobes .Everyone weve had contact with has been so professional , helpful, pleasant and polite. special thanks to yourself and Paul who did a magnificent job was a delight to have in the house. We're so happy with the result
We are extremely pleased with our fitted bedroom. Special thanks to Ryan, the salesman who couldn't have been more helpful and Steve who did an excellent job of fitting. Both are a credit to the company thanks again
To Sam Chris and everyone at Courts ! Once again thank you so much for the work you have carried out on our new walk in shower room and laundry /wc. Cannot praise the fitters, electricians, plasterers etc ( an dnot forgetting Stuart) highly enough - we are over the moon with the results!! thank you once again. keep up the good work! best wishes to you all
Thank you to everyone at Court Homemakers for a job well done
Would like to thank everyone so much for my new kitchen , bedroom and bathroom, Absolutely love everything
Hi Sam just wanted to express our thanks to you for your advice & guidance on the selection & design of our new bathroom
To Michael and SAM THANK YOU THANK YOU THANK YOU , we now have the most amazing kitchen/bathroom/dining room , it all looks lovely, Your team worked so hard and were all first class Hope to get painted soon, one wall lime green the others pale grey which will look great thank you again for all the help you gave us
Toi Court Homemakers can't thank your staff and company enough for the wonderful kitchen we had fitted and the excellent service you've provided us ever since . we would recommend your company and staff to one and all
To everyone who worked so hard to produce our beautiful kitchen thank you so much.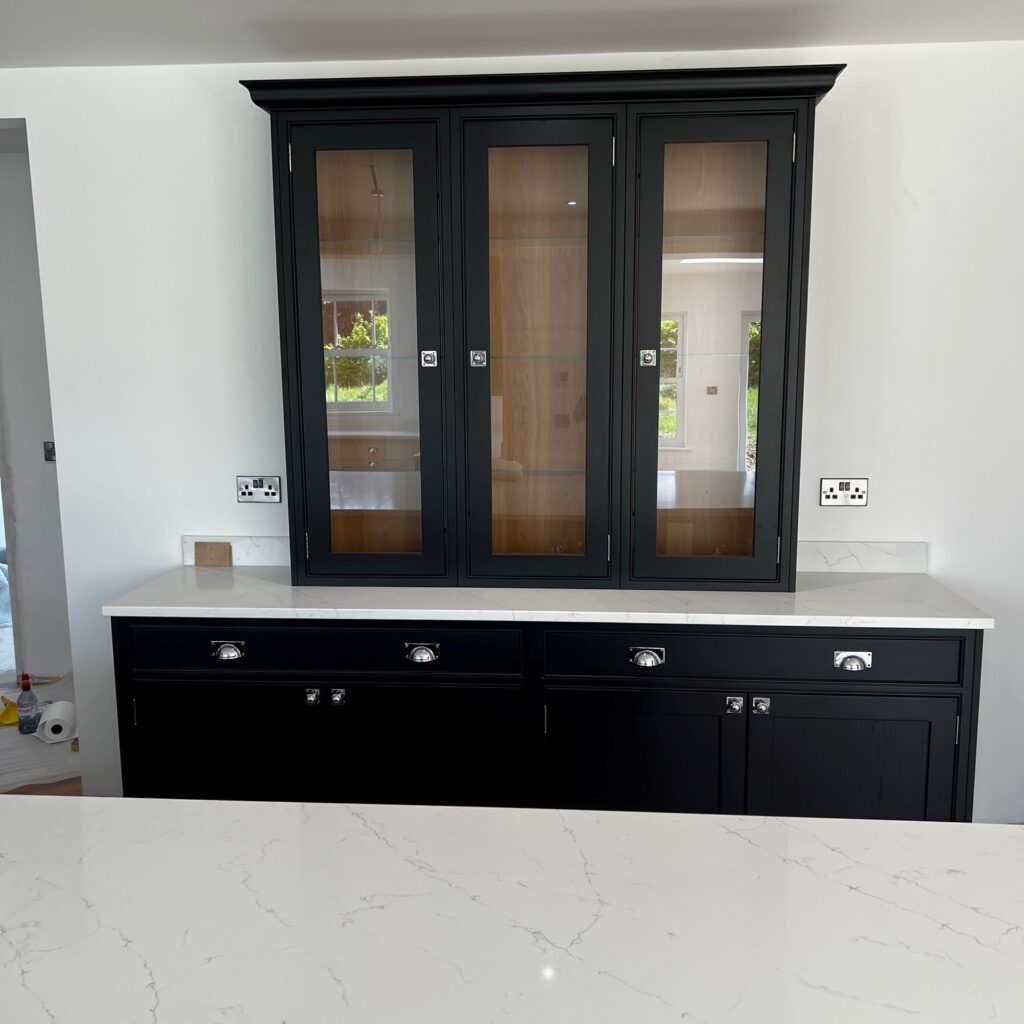 Immerse yourself in the splendor of David and Ann Holmes' new inframe kitchen in Redmarshall, Stockton-on-Tees.
 This fully bespoke kitchen, adorned with carbon and dove grey timber bespoke doors, delivers a level of exclusivity and beauty that will captivate anyone who enters. From the solid oak cabinetry to the top-of-the-range appliances and hidden storage solutions, every aspect of this new in-frame kitchen has been thoughtfully designed and meticulously executed.
Experience the pinnacle of culinary luxury in Redmarshall and elevate your home to new heights with a bespoke kitchen that exceeds expectations. Don't miss the opportunity to own this magnificent house with its stunning new in-frame kitchen and indulge in the epitome of elegance and functionality.